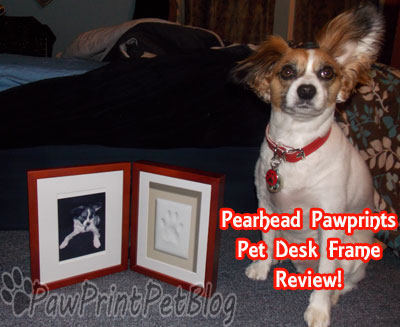 This review originally went up on March 18th, 2013!  It's one of the posts I took down temporarily when I redid the blog layout, with plans on updating and reposting it.  A lot of my old product review posts didn't make the cut when I was updating the blog.  But I just had to rework our review of the Pearhead Paw Prints pet desk frame, because it's an item I'll probably always cherish.


A Well Received Birthday Gift
I received our first Pearhead paw print frame as a birthday gift from, uh, Kitsune, in 2013!  One side of the frame is a normal picture frame.  The other side is a shadow box.  The frame comes with everything you need to take clay castings of your pet's paw(s).  It includes a bag of air dry clay, a small wooden rolling pin, a plastic ruler, double-sided tape, and instructions.  At least that's what it came with back when I received our frame!
Easy Instructions!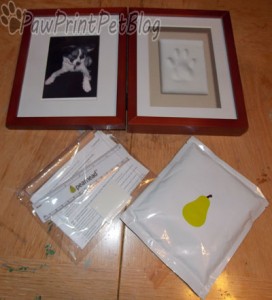 The instructions that come with the frame are pretty simple.  You just roll out the clay, take an impression of your pet's paw, use the ruler to shape the clay, then let your paw print dry.  Once your print is ready, you use the double-sided tape to mount the clay inside the shadow box, and you're done!
The clay that comes with the frame is soft and pretty easy to work with.  Depending on how big your dog's paws are, there is more than enough clay provided.  I was able to break the clay up into smaller pieces to take impressions of all four of Kitsune's paws.  It takes the clay a while to dry, so if you don't like your print you can knead the clay and try again.  I'm a bit of a perfectionist, and I actually tried quite a few times before getting impressions that I was happy with.
Tips for Getting the Perfect Paw Prints
For some reason, my clay stuck to the wooden rolling pin.  I wrapped the rolling pin in tin foil to keep it from sticking to the clay.  Also, it says in the directions to wet your dog's paw before taking the impression.  Don't skip this step!  On one of my attempts, I forgot to wet Kit's paw and the clay stuck all over the bottom of his paw pad.  If you're having a hard time smoothing out your clay before taking the print, you can use a small amount of water help things along.
So Awesome I Bought Another!
I loved our Pearhead pet frame that I used with Kitsune so much that, years later (2017) I bought another one to use with my second dog, Fenrir.  This video is old and not great but I'll include it here anyways, since I've since lost the photos I took while taking Fen's paw prints.
Treasured Possessions
I love my Pearhead paw print frames so much!  All these years later, I  still remember how much fun I had with both Kit and Fen while I was taking their paw imprints.  The paw prints have held up really well!  It's been almost 10(!) years now since I took Kit's paw impressions and they still look as good today as they did the day we took them.  The clay hasn't discolored or got crumbly or anything like that.  I have no doubt that my Pearhead paw print frames, with Kit and Fen's paw prints, will remain treasured possessions for many years to come.
If you haven't guessed by the name of my blog, I love paw prints!  Even more so when they are the paw prints of my own beloved dogs.  It's been awhile since I last purchased a Pearhead product, but going by my two experiences with their paw print frames I'd for sure recommend them!  I noticed when I was looking at their Amazon page that they have even more pet related products than they did the last time I bought something from them.
Comment below!  Have you ever purchased a craft type product that was meant to be completed with your pet?  Is the Pearhead paw print frame something you would display in your own home?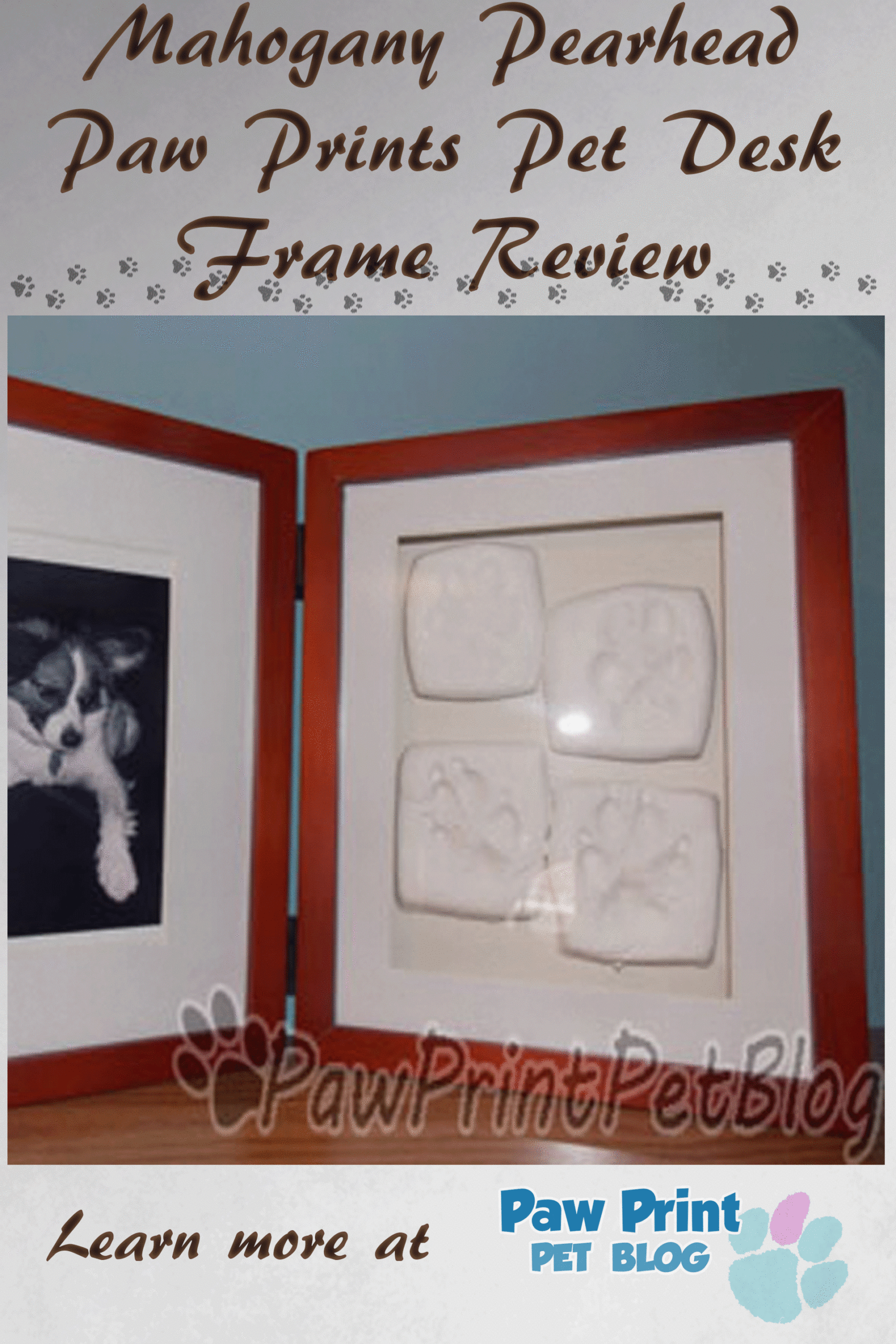 We've, unfortunately, been dealing with content scrapers stealing our articles lately.  You shouldn't be seeing this article on any site other than pawprintpetblog.com!  If you're reading this article on any other site, we'd love for you to take the time to contact us and let us know and, if you have the time, stop by and visit us on our official site!  Thanks you. 
Related